Text Page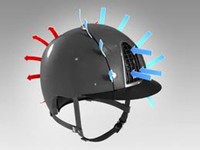 We send our Kep Italia to customers around the world. Within the EU, we do not charge shipping. For most countries outside the EU, we charge a surcharge of 25 euros, contact us for more details!
The unique KEP Italia helmet distinguish themselves by combining technology, fit and comfort with elegance.
KEP Italia is the only helmet that meets all safety requirements that exist worldwide.
A new protection with the elegant lines of the traditional helmet which meets the requirements of the (professional) rider. These helmets are so light (only 400 grams!) That you forget that you ophebt him. The helmets meet both the CE / EN standard 1384 as the Italcert Kitemark, Inspec and SEI standard, can not secure!
The helmets are equipped with ACS (Air Control System) with the grid on the front ensures optimum ventilation. This controls the air flow and can also be set easily opened and closed. The lining is made of high tech material and wholly easily removable and replaceable and / or washing. Includes a flexible valve to prevent fractures during a fall, the helmet is equipped with a 5-point lock in the color of the helmet.
Unique to these helmets is that they are completely adaptable to your own personal preference!
The standard helmets are available with three different coatings on the outside - Shine (smooth and shiny) - Mica (matte color with subtle shimmer) - Textile (matte coating)
They are also verkrijgaar in the following colors: - Black - Blue - Grey - Brown - White
For the grill you can choose from the following colors: - Black - Chrome - blue - gray - brown for the enthusiast the helmet can also be equipped with calfskin or phytonleer and grill can be fitted with Swarovski stones. It is also possible to use the helmet to provide the Dutch (or foreign) flag, it is even possible to have your own logo or image on your helmet paintbrushen!
The special Eventing helmet KEP is available with the Mica exterior color and gray is performed without valve, but also to adapt in terms of color, leather, logo or swarovski.
Sizes: - M (51 t / m 58) - L (59 t / m 62) The final size is determined by the supplied liner in size 51 / m 62. The linings are available separately, so it is possible to later to adjust the helmet within the margin.
By default, all caps comes with a nice bag.